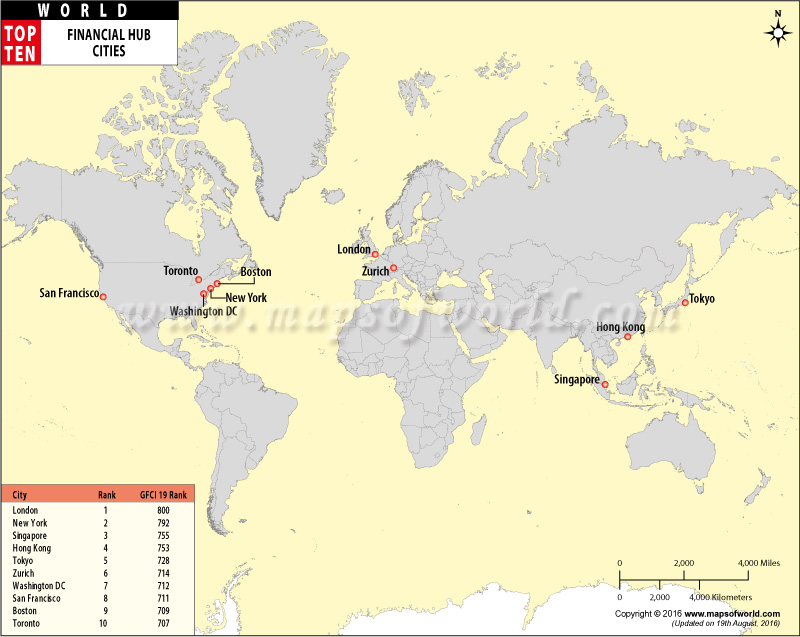 London, the capital of the United Kingdom, is one of the oldest financial centers in the world. Since the 19th century, it has been one of the leading global financial centers. London maintained its position in the 21st century and according to the 2016 Global Financial Center Index, it occupies the first spot in the list of the top ten financial hubs in the world. But, with the United Kingdom opting for Brexit, it remains to be seen what impact will this development have on the future prospects of London.
New York City closely follows London as one of the top financial hubs of the world. The two largest stock exchanges in the world are located in the New York City and these include NYSE and NASDAQ. New York City is also home to several investment banks and investment managers and other financial institutes. Standard and Poor's, Moody's Investor Service, and Fitch Ratings, which are the three top global credit rating agencies, are either headquartered or co-headquartered in the New York City.
Singapore has emerged as one of the best global financial centers, and according to 2016 GFCI occupies the third place. Singapore has edged out Hong Kong which is at the fourth spot. Hong Kong was a former British territory and is today home to most of the 100 largest banks in the world.
Tokyo occupies the fifth place. The city emerged as a major financial hub during the '80s and today, shares good links with London and New York City. On the sixth place is the Swiss city of Zurich, which is a significant center for banking and asset management. The seventh, eight and ninth spots are again occupied by US cities of Washington DC, San Francisco and Boston indicating the importance of the nation in the world economic arena.
The Canadian city of Toronto, which has bagged the 10th position, is one of the fastest growing financial centers. The city is a top market for large insurance companies and financial institutions.
Global Financial Centre Index, March 2016
| City | Rank | GFCI 19 Rank |
| --- | --- | --- |
| London | 1 | 800 |
| New York | 2 | 792 |
| Singapore | 3 | 755 |
| Hong Kong | 4 | 753 |
| Tokyo | 5 | 728 |
| Zurich | 6 | 714 |
| Washington DC | 7 | 712 |
| San Francisco | 8 | 711 |
| Boston | 9 | 709 |
| Toronto | 10 | 707 |
| Chicago | 11 | 706 |
| Seoul | 12 | 705 |
| Dubai | 13 | 699 |
| Luxembourg | 14 | 698 |
| Geneva | 15 | 694 |
| Shanghai | 16 | 693 |
| Sydney | 17 | 692 |
| Frankfurt | 18 | 689 |
| Shenzhen | 19 | 688 |
| Osaka | 20 | 687 |
| Montreal | 21 | 686 |
| Vancouver | 22 | 684 |
| Beijing | 23 | 682 |
| Taipei | 24 | 677 |
| Tel Aviv | 25 | 676 |
| Abu Dhabi | 26 | 675 |
| Munich | 27 | 672 |
| Calgary | 28 | 671 |
| Los Angeles | 29 | 670 |
| Melbourne | 30 | 669 |
| Dalian | 31 | 668 |
| Paris | 32 | 667 |
| Casablanca | 33 | 665 |
| Amsterdam | 34 | 664 |
| Doha | 35 | 652 |
| Kuala Lumpur | 36 | 649 |
| Stockholm | 37 | 648 |
| Busan | 38 | 644 |
| Dublin | 39 | 643 |
| Vienna | 40 | 642 |
| Cayman Islands | 41 | 641 |
| Mumbai | 42 | 640 |
| Sao Paulo | 43 | 639 |
| Rio de Janeiro | 44 | 637 |
| Istanbul | 45 | 636 |
| British Virgin Islands | 46 | 635 |
| Bangkok | 47 | 633 |
| Warsaw | 48 | 631 |
| Copenhagen | 49 | 630 |
| Bermuda | 50 | 629 |
Source: longfinance.net
Last Updated: 12th Aug 2016