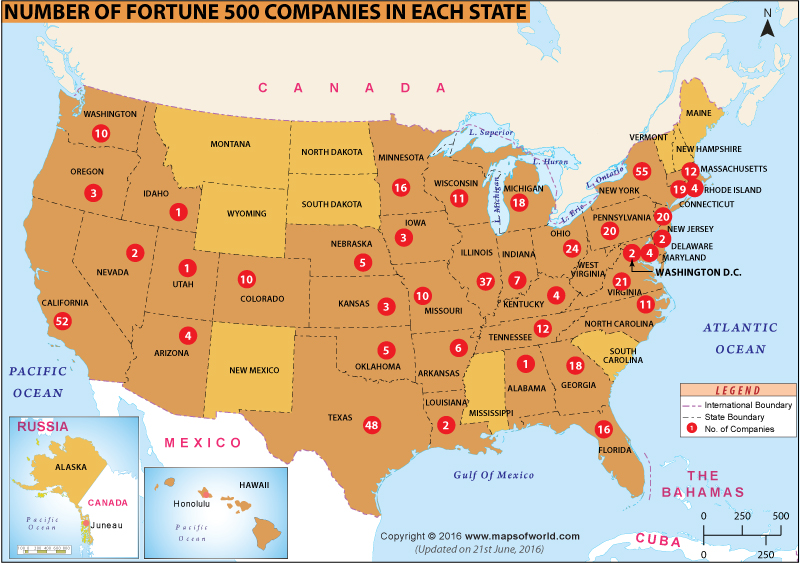 The Fortune 500 companies are being published by the Fortune's Magazine by an annual basis. This is a complete list of the top 500 corporations in the world. Wal-Mart Stores Rank first in fortune 500 Companies list.The top 500 companies of the United States are elected on the basis of their gross revenues. The list includes companies that are incorporated in the US and operate in the country. These companies file financial statements with a government agency. The list comprises names of public as well as privately held companies.
However, companies excluded from the list include the ones that are incorporated outside the US, private companies that do not file with a government agency. Also excluded from the list are companies that have failed to report full financial statements for at least three-quarters of the current fiscal year.
The history of Fortune 500 dates back to 1955 when Fortune magazine published its first list of 500 US companies with the highest gross revenue. The list was created by Fortune editor Edgar P. Smith.
Today, Fortune 500 companies represent two-thirds of the US GDP, according to the Fortune magazine. Companies that make it to the prestigious list are the most reputed in the world and wield enormous power and influence.
The companies are selected on the basis of the revenues as the parameter. The alphabetical lists of all fortune 500 companies for the year 2015 are as follows:
Fortune 500 Companies List 2015
| Rank | Company Name | Headquarter Location | Revenues ($M) | Country Name |
| --- | --- | --- | --- | --- |
| 1 | Walmart | Bentonville, AR | $482130 | USA |
| 2 | Exxon Mobil | Irving, TX, | $246204 | USA |
| 3 | Apple | Cupertino, CA | $233715 | USA |
| 4 | Berkshire Hathaway | Omaha, NE | $210821 | USA |
| 5 | McKesson | San Francisco | $181241 | USA |
| 6 | UnitedHealth Group | Minnetonka, MN | $157107 | USA |
| 7 | CVS Health | Woonsocket, RI | $153290 | USA |
| 8 | General Motors | Flint, Michigan | $152356 | USA |
| 9 | Ford Motor | Dearborn, Michigan | $149558 | USA |
| 10 | AT&T | Dallas, TX | $146801 | USA |
| 11 | General Electric | Fairfield | $140389 | USA |
| 12 | AmerisourceBergen | CHESTERBROOK, PA | $135962 | USA |
| 13 | Verizon | New York, NY | $131620 | USA |
| 14 | Chevron | San Ramon, CA | $131118 | USA |
| 15 | Costco | Issaquah, WA | $116199 | USA |
| 16 | Fannie Mae | Washington, DC | $110359 | USA |
| 17 | Kroger | Cincinnati, OH | $109830 | USA |
| 18 | Amazon.com | Seattle, WA | $107006 | USA |
| 19 | Walgreens Boots Alliance | Deerfield, IL | $103444 | USA |
| 20 | HP | Palo Alto, CA | $103355 | USA |
| 21 | Cardinal Health | Dublin, OH | $102531 | USA |
| 22 | Express Scripts Holding | Cool Valley, Missouri | $101752 | USA |
| 23 | JPMorgan Chase | New York, NY | $101006 | USA |
| 24 | Boeing | Chicago, IL | $96114 | USA |
| 25 | Microsoft | Redmond, WA | $93580 | USA |
| 26 | Bank of America Corp. | Charlotte, North Carolina | $93056 | USA |
| 27 | Wells Fargo | San Francisco, CA | $90033 | USA |
| 28 | Home Depot | Atlanta, GA | $88519 | USA |
| 29 | Citigroup | New York City, New York | $88275 | USA |
| 30 | Phillips 66 | Houston, TX | $87169 | USA |
| 31 | IBM | Armonk, NY | $82461 | USA |
| 32 | Valero Energy | San Antonio, TX | $81824 | USA |
| 33 | Anthem | Indianapolis, IN | $79157 | USA |
| 34 | Procter & Gamble | Cincinnati, OH | $78756 | USA |
| 35 | State Farm Insurance Cos. | Bloomington, IL | $75697 | USA |
| 36 | Alphabet | Mountain View, CA | $74989 | USA |
| 37 | Comcast | Philadelphia, PA | $74510 | USA |
| 38 | Target | Minneapolis, MN | $73785 | USA |
| 39 | Johnson & Johnson | New Brunswick, NJ | $70074 | USA |
| 40 | MetLife | New York City, NY | $69951 | USA |
| 41 | Archer Daniels Midland | Decatur, IL | $67702 | USA |
| 42 | Marathon Petroleum | Findlay, OH | $64566 | USA |
| 43 | Freddie Mac | MCLEAN, VA | $63491 | USA |
| 44 | PepsiCo | Purchase, NY | $63056 | USA |
| 45 | United Technologies | Hartford, CT | $61047 | USA |
| 46 | Aetna | Hartford, CT | $60337 | USA |
| 47 | Lowe's | Mooresville, North Carolina | $59074 | USA |
| 48 | UPS | Atlanta, GA | $58363 | USA |
| 49 | AIG | New York, NY | $58327 | USA |
| 50 | Prudential Financial | Newark, NJ | $57119 | USA |
| 51 | Intel | Santa Clara, CA | $55355 | USA |
| 52 | Humana | Louisville, KY | $54289 | USA |
| 53 | Disney | Burbank, CA | $52465 | USA |
| 54 | Cisco Systems | San Jose, CA | $49161 | USA |
| 55 | Pfizer | New York City, NY | $48851 | USA |
| 56 | Dow Chemical | Midland, MI | $48778 | USA |
| 57 | Sysco | Houston, TX | $48681 | USA |
| 58 | FedEx | Memphis, TN | $47453 | USA |
| 59 | Caterpillar | Peoria, IL | $47011 | USA |
| 60 | Lockheed Martin | Bethesda, MD ,Fort Worth, TX | $46132 | USA |
| 61 | New York Life Insurance | New York, NY | $45891 | USA |
| 62 | Coca-Cola | Atlanta, GA | $44294 | USA |
| 63 | HCA Holdings | Nashville, TN | $43591 | USA |
| 64 | Ingram Micro | Santa Ana, CA | $43026 | USA |
| 65 | Energy Transfer Equity | Dallas, TX | $42126 | USA |
| 66 | Tyson Foods | Springdale, AR | $41373 | USA |
| 67 | American Airlines Group | Fort Worth, TX | $40990 | USA |
| 68 | Delta Air Lines | Atlanta, GA | $40704 | USA |
| 69 | Nationwide | Columbus, OH | $40222 | USA |
| 70 | Johnson Controls | Milwaukee, WI | $40204 | USA |
| 71 | Best Buy | Richfield, Minnesota | $39745 | USA |
| 72 | Merck | Whitehouse Station, NJ, NJ | $39498 | USA |
| 73 | Liberty Mutual Insurance Group | Boston, MA | $39450 | USA |
| 74 | Goldman Sachs Group | Manhattan, NY | $39208 | USA |
| 75 | Honeywell International | Morristown, NJ | $38581 | USA |
| 76 | Massachusetts Mutual Life Insurance | Springfield, MA | $38243 | USA |
| 77 | Oracle | Redwood City, CA | $38226 | USA |
| 78 | Morgan Stanley | New York City, NY | $37897 | USA |
| 79 | Cigna | Bloomfield, CT | $37876 | USA |
| 80 | United Continental Holdings | Chicago, IL | $37864 | USA |
| 81 | Allstate | Northbrook, IL | $35653 | USA |
| 82 | TIAA | New York, NY | $35181 | USA |
| 83 | INTL FCStone | New York City, NY | $34693 | USA |
| 84 | CHS | Inver Grove Heights, MN | $34582 | USA |
| 85 | American Express | New York City | $34441 | USA |
| 86 | Gilead Sciences | Foster City, CA | $32639 | USA |
| 87 | Publix Super Markets | Lakeland, FL | $32619 | USA |
| 88 | General Dynamics | Falls Church, VA | $31469 | USA |
| 89 | TJX | Framingham, MA | $30945 | USA |
| 90 | ConocoPhillips | Houston, TX | $30935 | USA |
| 91 | Nike | Beaverton, OR | $30601 | USA |
| 92 | World Fuel Services | Miami, FL | $30380 | USA |
| 93 | 3M | Saint Paul, MN | $30274 | USA |
| 94 | Mondelez International | Deerfield, Illinois | $29636 | USA |
| 95 | Exelon | Chicago, IL | $29447 | USA |
| 96 | Twenty-First Century Fox | New York City | $28987 | USA |
| 97 | Deere | Moline, IL | $28863 | USA |
| 98 | Tesoro | San Antonio, TX | $28150 | USA |
| 99 | Time Warner | New York City, NY | $28118 | USA |
| 100 | Northwestern Mutual | Milwaukee, WI | $28111 | USA |
| 101 | DuPont | Wilmington, DE | $27940 | USA |
| 102 | Avnet | Phoenix, AZ | $27925 | USA |
| 103 | Macy's | Cincinnati, OH | $27079 | USA |
| 104 | Enterprise Products Partners | Houston, TX | $27028 | USA |
| 105 | Travelers Cos. | New York, NY | $26800 | USA |
| 106 | Philip Morris International | New York City | $26794 | USA |
| 107 | Rite Aid | Camp Hill, PA | $26528 | USA |
| 108 | Tech Data | Clearwater, FL | $26380 | USA |
| 109 | McDonald's | Oak Brook, IL | $25413 | USA |
| 110 | Qualcomm | San Diego, CA | $25281 | USA |
| 111 | Sears Holdings | Hoffman Estates, IL | $25146 | USA |
| 112 | Capital One Financial | McLean, VA | $25098 | USA |
| 113 | EMC | Hopkinton, MA | $24704 | USA |
| 114 | USAA | San Antonio, TX | $24361 | USA |
| 115 | Duke Energy | Charlotte, NC | $24002 | USA |
| 116 | Time Warner Cable | New York | $23697 | USA |
| 117 | Halliburton | Houston, Texas | $23633 | USA |
| 118 | Northrop Grumman | Falls Church, VA | $23526 | USA |
| 119 | Arrow Electronics | Englewood, CO | $23282 | USA |
| 120 | Raytheon | Waltham, MA | $23247 | USA |
| 121 | Plains GP Holdings | Houston, TX | $23152 | USA |
| 122 | US Foods Holding | Rosemont, IL | $23128 | USA |
| 123 | AbbVie | North Chicago, IL | $22859 | USA |
| 124 | Centene | St. Louis, MO | $22795 | USA |
| 125 | Community Health Systems | Franklin, TN | $22678 | USA |
| 126 | Alcoa | New York City, NY | $22534 | USA |
| 127 | International Paper | Memphis, TN | $22365 | USA |
| 128 | Emerson Electric | St. Louis, MO | $22304 | USA |
| 129 | Union Pacific | Omaha, NE | $21813 | USA |
| 130 | Amgen | Thousand Oaks, CA | $21662 | USA |
| 131 | U.S. Bancorp | Minneapolis, MN | $21494 | USA |
| 132 | Staples | Framingham, MA | $21059 | USA |
| 133 | Danaher | WASHINGTON, DC | $20909 | USA |
| 134 | Whirlpool | Benton Harbor, MI | $20891 | USA |
| 135 | Aflac | Columbus, GA | $20872 | USA |
| 136 | AutoNation | Fort Lauderdale, FL | $20862 | USA |
| 137 | Progressive | Mayfield, OH | $20854 | USA |
| 138 | Abbott Laboratories | Abbott Park, North Chicago, Illinois | $20661 | USA |
| 139 | Dollar General | Goodlettsville, TN | $20369 | USA |
| 140 | Tenet Healthcare | Dallas, TX | $20111 | USA |
| 141 | Eli Lilly | Indianapolis, IN | $19959 | USA |
| 142 | Southwest Airlines | Dallas, Texas | $19820 | USA |
| 143 | Penske Automotive Group | Bloomfield Hills | $19361 | USA |
| 144 | ManpowerGroup | Milwaukee, WI | $19330 | USA |
| 145 | Kohl's | Menomonee Falls | $19204 | USA |
| 146 | Starbucks | Seattle, WA | $19163 | USA |
| 147 | Paccar | Bellevue, WA | $19115 | USA |
| 148 | Cummins | Columbus, IN | $19110 | USA |
| 149 | Altria Group | Richmond, VA | $18854 | USA |
| 150 | Xerox | Norwalk, CT | $18664 | USA |
| 151 | Kimberly-Clark | Irving, TX | $18591 | USA |
| 152 | Hartford Financial Services Group | Hartford, CT | $18377 | USA |
| 153 | Kraft Heinz | Pittsburgh, PA | $18338 | USA |
| 154 | Lear | Southfield, MI | $18211 | USA |
| 155 | Fluor | Irving, TX | $18114 | USA |
| 156 | AECOM | Los Angeles, CA | $17990 | USA |
| 157 | Facebook | California | $17928 | USA |
| 158 | Jabil Circuit | St. Petersburg, FL | $17914 | USA |
| 159 | CenturyLink | Monroe, LA | $17900 | USA |
| 160 | Supervalu | Eden Prairie, Minnesota | $17820 | USA |
| 161 | General Mills | Minneapolis, MN | $17630 | USA |
| 162 | Southern | Atlanta, GA | $17489 | USA |
| 163 | NextEra Energy | Juno Beach, FL | $17486 | USA |
| 164 | Thermo Fisher Scientific | Waltham, Massachusetts | $16965 | USA |
| 165 | American Electric Power | Columbus, Ohio | $16900 | USA |
| 166 | PG&E Corp. | San Francisco, CA | $16833 | USA |
| 167 | NGL Energy Partners | Tulsa, OK | $16802 | USA |
| 168 | Bristol-Myers Squibb | New York City | $16560 | USA |
| 169 | Goodyear Tire & Rubber | Akron, Ohio | $16443 | USA |
| 170 | Nucor | Charlotte, NC | $16439 | USA |
| 171 | PNC Financial Services Group | Pittsburgh, PA | $16270 | USA |
| 172 | Health Net | WOODLAND HILLS, CA | $16244 | USA |
| 173 | Micron Technology | Boise, ID | $16192 | USA |
| 174 | Colgate-Palmolive | New York City | $16034 | USA |
| 175 | Freeport-McMoRan | Phoenix, AZ | $15877 | USA |
| 176 | ConAgra Foods | Omaha, NE | $15849 | USA |
| 177 | Gap | San Francisco, CA | $15797 | USA |
| 178 | Baker Hughes | Houston, TX | $15742 | USA |
| 179 | Bank of New York Mellon Corp. | New York, NY | $15523 | USA |
| 180 | Dollar Tree | Chesapeake, VA | $15498 | USA |
| 181 | Whole Foods Market | Austin, TX | $15389 | USA |
| 182 | PPG Industries | Pittsburgh, PA | $15330 | USA |
| 183 | Genuine Parts | Atlanta, GA | $15280 | USA |
| 184 | Icahn Enterprises | New York City, NY | $15272 | USA |
| 185 | Performance Food Group | Richmond, VA | $15270 | USA |
| 186 | Omnicom Group | New York City, NY | $15134 | USA |
| 187 | DISH Network | Englewood | $15069 | USA |
| 188 | FirstEnergy | Akron, OH | $15026 | USA |
| 189 | Monsanto | St. Louis, MO | $15001 | USA |
| 190 | AES | Arlington, VA | $14963 | USA |
| 191 | CarMax | Richmond, VA | $14874 | USA |
| 192 | National Oilwell Varco | Goodlettsville, TN | $14757 | USA |
| 193 | NRG Energy | Princeton, NJ | $14674 | USA |
| 194 | Western Digital | Irvine, CA | $14572 | USA |
| 195 | Marriott International | Bethesda, MD | $14486 | USA |
| 196 | Office Depot | Boca Raton, FL | $14485 | USA |
| 197 | Nordstrom | Seattle, WA | $14437 | USA |
| 198 | Kinder Morgan | Houston, TX | $14403 | USA |
| 199 | Aramark | Philadelphia, PA | $14329 | USA |
| 200 | DaVita HealthCare Partners | Denver, CO | $14210 | USA |
| 201 | Molina Healthcare | Long Beach, Califomia | $14178 | USA |
| 202 | WellCare Health Plans | Tampa, FL | $13890 | USA |
| 203 | CBS | New York City | $13886 | USA |
| 204 | Visa | San Francisco, CA | $13880 | USA |
| 205 | Lincoln National | RADNOR, PA | $13572 | USA |
| 206 | Ecolab | Saint Paul, MN | $13545 | USA |
| 207 | Kellogg | Battle Creek, MI | $13525 | USA |
| 208 | C.H. Robinson Worldwide | Eden Prairie, MN | $13476 | USA |
| 209 | Textron | Providence, RI | $13423 | USA |
| 210 | Loews | New York City, NY | $13415 | USA |
| 211 | Illinois Tool Works | Glenview, IL | $13405 | USA |
| 212 | Synnex | Fremont, CA | $13338 | USA |
| 213 | Viacom | New York City, NY | $13268 | USA |
| 214 | HollyFrontier | Dallas, TX | $13238 | USA |
| 215 | Land O'Lakes | Arden Hills, MN | $13161 | USA |
| 216 | Devon Energy | Oklahoma City, OK | $13145 | USA |
| 217 | PBF Energy | Parsippany-Troy Hills, NJ | $13124 | USA |
| 218 | Yum Brands | Louisville, KY | $13105 | USA |
| 219 | Texas Instruments | Dallas, TX | $13000 | USA |
| 220 | CDW | Vernon Hills, IL | $12989 | USA |
| 221 | Waste Management | Houston, TX | $12961 | USA |
| 222 | Marsh & McLennan | New York City, NY | $12893 | USA |
| 223 | Chesapeake Energy | Oklahoma City, OK | $12764 | USA |
| 224 | Parker-Hannifin | Cleveland, OH | $12712 | USA |
| 225 | Occidental Petroleum | Los Angeles, CA | $12699 | USA |
| 226 | Guardian Life Ins. Co. of America | New York City | $12628 | USA |
| 227 | Farmers Insurance Exchange | WOODLAND HILLS, CA | $12626 | USA |
| 228 | J.C. Penney | Plano, Texas | $12625 | USA |
| 229 | Consolidated Edison | New York City, NY | $12554 | USA |
| 230 | Cognizant Technology Solutions | Teaneck, NJ | $12416 | USA |
| 231 | VF | Greensboro, NC | $12377 | USA |
| 232 | Ameriprise Financial | Minneapolis, MN | $12200 | USA |
| 233 | Computer Sciences | Falls Church, VA | $12183 | USA |
| 234 | L Brands | Columbus, Ohio | $12154 | USA |
| 235 | Jacobs Engineering Group | PASADENA, CA | $12115 | USA |
| 236 | Principal Financial | Des Moines, IA | $11964 | USA |
| 237 | Ross Stores | Pleasanton, CA | $11940 | USA |
| 238 | Bed Bath & Beyond | Union, NJ | $11881 | USA |
| 239 | CSX | Jacksonville, FL | $11811 | USA |
| 240 | Toys "R" Us | Wayne, New Jersey | $11802 | USA |
| 241 | Las Vegas Sands | Las Vegas, NV | $11689 | USA |
| 242 | Leucadia National | New York City, NY | $11684 | USA |
| 243 | Dominion Resources | Richmond, Virginia | $11683 | USA |
| 244 | United States Steel | Pittsburgh, PA | $11574 | USA |
| 245 | L-3 Communications | New York City | $11554 | USA |
| 246 | Edison International | Rosemead, CA | $11524 | USA |
| 247 | Entergy | New Orleans, LA | $11513 | USA |
| 248 | ADP | Roseland, NJ | $11477 | USA |
| 249 | First Data | Atlanta, GA | $11451 | USA |
| 250 | BlackRock | London | $11401 | USA |
| 251 | WestRock | Richmond, VA | $11381 | USA |
| 252 | Voya Financial | New York, NY | $11341 | USA |
| 253 | Sherwin-Williams | Cleveland, OH | $11339 | USA |
| 254 | Hilton Worldwide Holdings | McLean, VA | $11272 | USA |
| 255 | R.R. Donnelley & Sons | Chicago, IL | $11257 | USA |
| 256 | Stanley Black & Decker | New Britain, CT | $11211 | USA |
| 257 | Xcel Energy | Minneapolis, MN | $11025 | USA |
| 258 | Murphy USA | El Dorado, AR | $10885 | USA |
| 259 | CBRE Group | Los Angeles, CA | $10856 | USA |
| 260 | D.R. Horton | Fort Worth, Texas | $10824 | USA |
| 261 | Estee Lauder | New York, NY | $10780 | USA |
| 262 | Praxair | Danbury, CT | $10776 | USA |
| 263 | Biogen | Weston, MA | $10764 | USA |
| 264 | State Street Corp. | Boston, MA | $10760 | USA |
| 265 | Unum Group | Chattanooga, TN | $10731 | USA |
| 266 | Reynolds American | Winston-Salem, NC | $10675 | USA |
| 267 | Group 1 Automotive | Houston, TX | $10633 | USA |
| 268 | Henry Schein | Vernon Hills, IL | $10630 | USA |
| 269 | Hertz Global Holdings | Fort Myers, FL | $10535 | USA |
| 270 | Norfolk Southern | Norfolk, Virginia | $10511 | USA |
| 271 | Reinsurance Group of America | Chesterfield, MO | $10418 | USA |
| 272 | Public Service Enterprise Group | Newark, NJ | $10415 | USA |
| 273 | BB&T Corp. | Winston-Salem, NC | $10346 | USA |
| 274 | DTE Energy | Detroit, MI | $10337 | USA |
| 275 | Assurant | New York City, NY | $10326 | USA |
| 276 | Global Partners | Waltham, MA | $10315 | USA |
| 277 | Huntsman | Salt Lake City, UT | $10299 | USA |
| 278 | Becton Dickinson | Franklin Lakes, NJ | $10282 | USA |
| 279 | Sempra Energy | San Diego, CA | $10231 | USA |
| 280 | AutoZone | Memphis, TN | $10187 | USA |
| 281 | Navistar International | Lisle, IL | $10140 | USA |
| 282 | Precision Castparts | Portland, OR | $10056 | USA |
| 283 | Discover Financial Services | Riverwoods, IL | $10002 | USA |
| 284 | Liberty Interactive | Englewood, CO | $9989 | USA |
| 285 | W.W. Grainger | Lake Forest, IL | $9973 | USA |
| 286 | Baxter International | Deerfield, Illinois | $9968 | USA |
| 287 | Stryker | Kalamazoo, MI | $9946 | USA |
| 288 | Air Products & Chemicals | Allentown, PA | $9895 | USA |
| 289 | Western Refining | El Paso, TX | $9787 | USA |
| 290 | Universal Health Services | KING OF PRUSSIA, PA | $9785 | USA |
| 291 | Owens & Minor | Mechanicsville, VA | $9773 | USA |
| 292 | Charter Communications | Stamford, CT | $9754 | USA |
| 293 | Advance Auto Parts | Roanoke, VA | $9737 | USA |
| 294 | MasterCard | Purchase, NY | $9667 | USA |
| 295 | Applied Materials | Santa Clara, CA | $9659 | USA |
| 296 | Eastman Chemical | Kingsport, TN | $9648 | USA |
| 297 | Sonic Automotive | Charlotte, NC | $9624 | USA |
| 298 | Ally Financial | Detroit, MI | $9539 | USA |
| 299 | CST Brands | San Antonio, TX | $9499 | USA |
| 300 | eBay | San Jose, CA | $9496 | USA |
| 301 | Lennar | Miami, FL | $9474 | USA |
| 302 | GameStop | Grapevine, Texas | $9364 | USA |
| 303 | Reliance Steel & Aluminum | Los Angeles, CA | $9351 | USA |
| 304 | Hormel Foods | Austin, MN | $9264 | USA |
| 305 | Celgene | Summit, New Jersey | $9256 | USA |
| 306 | Genworth Financial | Richmond, VA | $9249 | USA |
| 307 | PayPal Holdings | San Jose, CA | $9248 | USA |
| 308 | Priceline Group | Norwalk, CT | $9224 | USA |
| 309 | MGM Resorts International | Las Vegas, NV | $9190 | USA |
| 310 | Autoliv | Stockholm | $9170 | USA |
| 311 | Fidelity National Financial | Jacksonville, FL | $9132 | USA |
| 312 | Republic Services | Phoenix, AZ | $9115 | USA |
| 313 | Corning | Corning, NY | $9111 | USA |
| 314 | Peter Kiewit Sons' | Omaha, NE | $8992 | USA |
| 315 | Univar | Downers Grove, IL | $8982 | USA |
| 316 | Mosaic | Plymouth, MN | $8895 | USA |
| 317 | Core-Mark Holding | South San Francisco, CA | $8858 | USA |
| 318 | Thrivent Financial for Lutherans | Appleton, Wisconsin | $8789 | USA |
| 319 | Cameron International | Houston, TX | $8782 | USA |
| 320 | HD Supply Holdings | Atlanta, GA | $8779 | USA |
| 321 | Crown Holdings | Philadelphia, PA | $8762 | USA |
| 322 | EOG Resources | Houston, TX | $8757 | USA |
| 323 | Veritiv | Atlanta, GA | $8718 | USA |
| 324 | Anadarko Petroleum | THE WOODLANDS, TX | $8698 | USA |
| 325 | Laboratory Corp. of America | Burlington, NC | $8680 | USA |
| 326 | Pacific Life | Newport Beach, CA | $8642 | USA |
| 327 | News Corp. | New York, NY | $8633 | USA |
| 328 | Jarden | Rye, NY | $8604 | USA |
| 329 | SunTrust Banks | Atlanta, GA | $8533 | USA |
| 330 | Avis Budget Group | Parsippany, NJ | $8502 | USA |
| 331 | Broadcom | Irvine, CA | $8394 | USA |
| 332 | American Family Insurance Group | Madison, WI | $8286 | USA |
| 333 | Level 3 Communications | Broomfield, CO | $8229 | USA |
| 334 | Tenneco | Lake Forest, IL | $8209 | USA |
| 335 | United Natural Foods | Providence, RI | $8185 | USA |
| 336 | Dean Foods | Dallas, TX | $8122 | USA |
| 337 | Campbell Soup | Camden, NJ | $8082 | USA |
| 338 | Mohawk Industries | Calhoun, GA | $8072 | USA |
| 339 | BorgWarner | Auburn Hills, MI | $8023 | USA |
| 340 | PVH | New York City, NY | $8020 | USA |
| 341 | Ball | Broomfield, CO | $7997 | USA |
| 342 | O'Reilly Automotive | Springfield, MO | $7967 | USA |
| 343 | Eversource Energy | Springfield, MA | $7955 | USA |
| 344 | Franklin Resources | San Mateo, CA | $7949 | USA |
| 345 | Masco | Taylor, MI | $7904 | USA |
| 346 | Lithia Motors | Medford, OR | $7864 | USA |
| 347 | KKR | New York City, NY | $7786 | USA |
| 348 | Oneok | Tulsa, OK | $7763 | USA |
| 349 | Newmont Mining | Greenwood Village, Colorado | $7729 | USA |
| 350 | PPL | Brisbane | $7669 | USA |
| 351 | SpartanNash | Byron Center, MI | $7652 | USA |
| 352 | Quanta Services | Houston, TX | $7632 | USA |
| 353 | XPO Logistics | Greenwich, CT | $7623 | USA |
| 354 | Ralph Lauren | New York City, NY | $7620 | USA |
| 355 | Interpublic Group | New York, NY | $7614 | USA |
| 356 | Steel Dynamics | Fort Wayne, IN | $7594 | USA |
| 357 | WESCO International | Pittsburgh, PA | $7519 | USA |
| 358 | Quest Diagnostics | Madison, NJ | $7493 | USA |
| 359 | Boston Scientific | Natick, MA | $7477 | USA |
| 360 | AGCO | Duluth, GA | $7467 | USA |
| 361 | Foot Locker | New York City, NY | $7412 | USA |
| 362 | Hershey | Hershey, PA | $7387 | USA |
| 363 | CenterPoint Energy | Houston, TX | $7386 | USA |
| 364 | Williams | Tulsa, OK | $7360 | USA |
| 365 | Dick's Sporting Goods | Coraopolis, Pennsylvania | $7271 | USA |
| 366 | Live Nation Entertainment | Beverly Hills, CA | $7246 | USA |
| 367 | Mutual of Omaha Insurance | Omaha, NE | $7236 | USA |
| 368 | W.R. Berkley | Greenwich, CT | $7207 | USA |
| 369 | LKQ | Chicago, IL | $7193 | USA |
| 370 | Avon Products | New York City, NY | $7173 | USA |
| 371 | Darden Restaurants | Orlando, FL | $7164 | USA |
| 372 | Kindred Healthcare | Louisville, KY | $7098 | USA |
| 373 | Weyerhaeuser | Federal Way, Washington | $7082 | USA |
| 374 | Casey's General Stores | Ankeny, IA | $7052 | USA |
| 375 | Sealed Air | Elmwood Park | $7032 | USA |
| 376 | Fifth Third Bancorp | Cincinnati, OH | $7031 | USA |
| 377 | Dover | Downers Grove, IL | $7029 | USA |
| 378 | Huntington Ingalls Industries | Newport News, VA | $7020 | USA |
| 379 | Netflix | Los Gatos, CA | $6780 | USA |
| 380 | Dillard's | Little Rock, Arkansas | $6755 | USA |
| 381 | EMCOR Group | Norwalk, CT | $6723 | USA |
| 382 | Jones Financial | Des Peres, MO | $6694 | USA |
| 383 | AK Steel Holding | West Chester, OH | $6693 | USA |
| 384 | UGI | KING OF PRUSSIA, PA | $6691 | USA |
| 385 | Expedia | Bellevue, WA | $6672 | USA |
| 386 | salesforce.com | San Francisco, CA | $6667 | USA |
| 387 | Targa Resources | Houston, TX | $6659 | USA |
| 388 | Apache | Houston, TX | $6654 | USA |
| 389 | Spirit AeroSystems Holdings | Wichita, KS | $6644 | USA |
| 390 | Expeditors International of Washington | Seattle, WA | $6617 | USA |
| 391 | Anixter International | Glenview, IL | $6596 | USA |
| 392 | Fidelity National Information Services | Jacksonville, FL | $6595 | USA |
| 393 | Asbury Automotive Group | Duluth, GA | $6588 | USA |
| 394 | Hess | New York City, NY | $6575 | USA |
| 395 | Ryder System | Miami, FL | $6572 | USA |
| 396 | Terex | Westport, CT | $6543 | USA |
| 397 | Coca-Cola European Partners | Atlanta, GA | $6540 | USA |
| 398 | Auto-Owners Insurance | Delta Township, Michigan | $6517 | USA |
| 399 | Cablevision Systems | Bethpage, NY | $6510 | USA |
| 400 | Symantec | Mountain View | $6508 | USA |
| 401 | Charles Schwab | San Francisco, CA | $6501 | USA |
| 402 | Calpine | Houston, TX | $6472 | USA |
| 403 | CMS Energy | Jackson, MI | $6456 | USA |
| 404 | Alliance Data Systems | Plano, TX | $6440 | USA |
| 405 | JetBlue Airways | Long Island City, NY | $6416 | USA |
| 406 | Discovery Communications | Silver Spring, Maryland | $6394 | USA |
| 407 | Trinity Industries | Dallas, TX | $6393 | USA |
| 408 | Sanmina | San Jose, CA | $6375 | USA |
| 409 | NCR | Duluth, GA | $6373 | USA |
| 410 | FMC Technologies | Houston, TX | $6363 | USA |
| 411 | Erie Insurance Group | Erie, Pennsylvania | $6351 | USA |
| 412 | Rockwell Automation | Milwaukee | $6308 | USA |
| 413 | Dr Pepper Snapple Group | Plano, TX | $6282 | USA |
| 414 | iHeartMedia | San Antonio, TX | $6242 | USA |
| 415 | Tractor Supply | Brentwood, TN | $6227 | USA |
| 416 | J.B. Hunt Transport Services | Lowell, AR | $6188 | USA |
| 417 | Commercial Metals | Irving, TX | $6162 | USA |
| 418 | Owens-Illinois | Perrysburg, OH | $6156 | USA |
| 419 | Harman International Industries | Stamford, CT | $6155 | USA |
| 420 | Baxalta | Bannockburn, IL | $6149 | USA |
| 421 | American Financial Group | Cincinnati, OH | $6145 | USA |
| 422 | NetApp | Sunnyvale, CA | $6123 | USA |
| 423 | Graybar Electric | St. Louis, MO | $6110 | USA |
| 424 | Oshkosh | Oshkosh, WI | $6098 | USA |
| 425 | Ameren | St. Louis, MO | $6098 | USA |
| 426 | A-Mark Precious Metals | Santa Monica, CA | $6070 | USA |
| 427 | Barnes & Noble | New York City, NY | $6070 | USA |
| 428 | Dana Holding | Maumee, OH | $6060 | USA |
| 429 | Constellation Brands | Victor, NY | $6028 | USA |
| 430 | LifePoint Health | Brentwood, TN | $6014 | USA |
| 431 | Zimmer Biomet Holdings | Warsaw, IN | $5998 | USA |
| 432 | Harley-Davidson | Milwaukee, WI | $5995 | USA |
| 433 | PulteGroup | Atlanta, Georgia | $5982 | USA |
| 434 | Newell Brands | Atlanta, GA | $5972 | USA |
| 435 | Avery Dennison | Pasadena, CA | $5967 | USA |
| 436 | Jones Lang LaSalle | Chicago, IL | $5966 | USA |
| 437 | WEC Energy Group | Milwaukee, WI | $5926 | USA |
| 438 | Marathon Oil | Houston, TX | $5861 | USA |
| 439 | TravelCenters of America | Westlake, OH | $5851 | USA |
| 440 | United Rentals | Stamford, CT | $5817 | USA |
| 441 | HRG Group | New York, NY | $5816 | USA |
| 442 | Old Republic International | Chicago, IL | $5766 | USA |
| 443 | Windstream Holdings | Little Rock, Arkansas | $5765 | USA |
| 444 | Starwood Hotels & Resorts | Stamford, CT | $5763 | USA |
| 445 | Delek US Holdings | Brentwood, TN | $5762 | USA |
| 446 | Packaging Corp. of America | Lake Forest, IL | $5742 | USA |
| 447 | Quintiles Transnational Holdings | Durham, NC | $5738 | USA |
| 448 | Hanesbrands | Winston-Salem, NC | $5732 | USA |
| 449 | Realogy Holdings | Madison, NJ | $5706 | USA |
| 450 | Mattel | El Segundo, CA | $5703 | USA |
| 451 | Motorola Solutions | Schaumburg, IL | $5695 | USA |
| 452 | J.M. Smucker | Orrville, OH | $5693 | USA |
| 453 | Regions Financial | Birmingham, AL | $5674 | USA |
| 454 | Celanese | Irving, TX | $5674 | USA |
| 455 | Clorox | Oakland, CA | $5666 | USA |
| 456 | Ingredion | Westchester, IL | $5621 | USA |
| 457 | Genesis Healthcare | Kennett Square, PA | $5619 | USA |
| 458 | Peabody Energy | St. Louis, MO | $5609 | USA |
| 459 | Alaska Air Group | Seattle, WA | $5598 | USA |
| 460 | Seaboard | Cape Town | $5594 | USA |
| 461 | Frontier Communications | Norwalk, CT | $5576 | USA |
| 462 | Amphenol | Wallingford, CT | $5569 | USA |
| 463 | Lansing Trade Group | Overland Park, KS | $5565 | USA |
| 464 | SanDisk | Milpitas, CA | $5565 | USA |
| 465 | St. Jude Medical | Saint Paul, MN | $5541 | USA |
| 466 | Wyndham Worldwide | Parsippany-Troy Hills, NJ | $5536 | USA |
| 467 | Kelly Services | Troy, MI | $5518 | USA |
| 468 | Western Union | Englewood, CO | $5484 | USA |
| 469 | Envision Healthcare Holdings | Greenwood Village, CO | $5448 | USA |
| 470 | Visteon | Van Buren Township, MI | $5444 | USA |
| 471 | Arthur J. Gallagher | Itasca, IL | $5392 | USA |
| 472 | Host Hotels & Resorts | Bethesda, MD | $5387 | USA |
| 473 | Ashland | Covington, KY | $5387 | USA |
| 474 | Insight Enterprises | Tempe, AZ | $5373 | USA |
| 475 | Energy Future Holdings | Dallas, TX | $5370 | USA |
| 476 | Markel | Glen Allen, VA | $5370 | USA |
| 477 | Essendant | Deerfield, IL | $5363 | USA |
| 478 | CH2M Hill | Englewood, CO | $5362 | USA |
| 479 | Western & Southern Financial Group | Cincinnati, OH | $5356 | USA |
| 480 | Owens Corning | Toledo, OH | $5350 | USA |
| 481 | S&P Global | New York, NY | $5313 | USA |
| 482 | Raymond James Financial | St. Petersburg, FL | $5308 | USA |
| 483 | NiSource | Merrillville, IN | $5308 | USA |
| 484 | Airgas | RADNOR, PA | $5305 | USA |
| 485 | ABM Industries | New York, NY | $5291 | USA |
| 486 | Citizens Financial Group | Providence, RI | $5276 | USA |
| 487 | Booz Allen Hamilton Holding | MCLEAN, VA | $5275 | USA |
| 488 | Simon Property Group | Indianapolis, IN | $5266 | USA |
| 489 | Domtar | Montreal, QC | $5264 | USA |
| 490 | Rockwell Collins | Cedar Rapids, IA | $5262 | USA |
| 491 | Lam Research | Fremont, CA | $5259 | USA |
| 492 | Fiserv | Brookfield, WI | $5254 | USA |
| 493 | Spectra Energy | Houston, TX | $5234 | USA |
| 494 | Navient | Wilmington, DE | $5197 | USA |
| 495 | Big Lots | Columbus, OH | $5191 | USA |
| 496 | Telephone & Data Systems | Chicago, IL | $5176 | USA |
| 497 | First American Financial | Irvine, CA | $5176 | USA |
| 498 | NVR | Reston, VA | $5170 | USA |
| 499 | Cincinnati Financial | Fairfield, OH | $5142 | USA |
| 500 | Burlington Stores | Burlington, NJ | $5130 | USA |
Last Updated on : 17th June. 2016