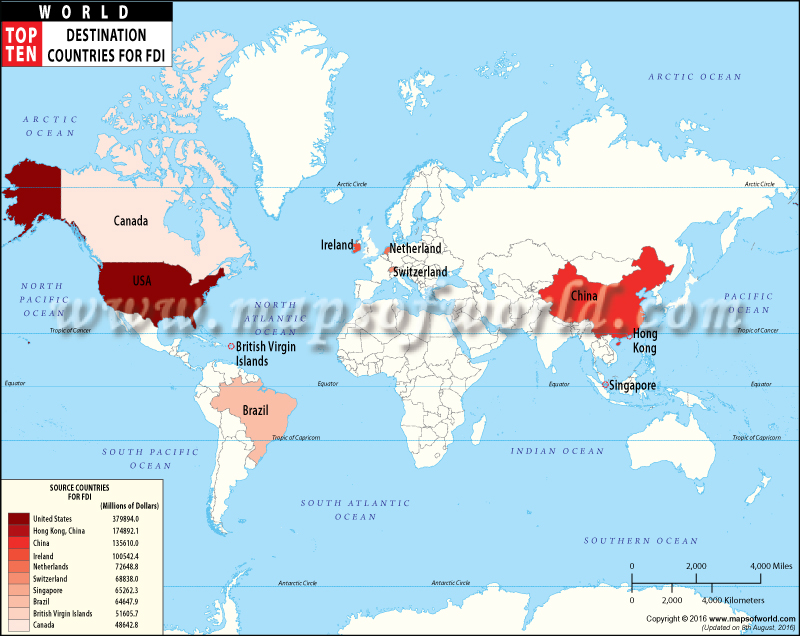 Foreign Direct Investment, which is usually referred to as FDI, is an investment which is made by an individual or a corporate based in one country in the business interests in another country. Corporations usually do this by establishing their business operations or through acquiring business assets in another country. FDI net inflow can be defined as the investments made by the non-resident investors in the reporting economy.
In terms of the top ten countries that have reported the maximum FDI inflows in 2015, the United States stood at the top of the table. The country reported a total FDI inflow of $379,894 million. Hong Kong, which occupied the second spot, was way behind the United States. Its FDI inflow was less than half of that of the US at $174,892.1 million. China, at the third place reported $135,610 million; while Ireland stood fourth with $100,542.4 million of FDI inflow.
The two European countries Netherlands and Switzerland occupied the fifth and sixth place reporting $72,648.8 million and $68,838 million respectively. Singapore was the other Asian country that made it to the list. The tiny nation was at the seventh rank and reported $65,262.4 million of FDI inflows. Brazil is the only South American country in the list. Standing eight, Brazil reported an FDI inflow worth $64,647.9 million. The British overseas territory in the Caribbean – British Virgin Islands – reported $51,605.7 million, while US' neighbor, Canada occupied the tenth spot with an FDI inflow of $48,642.8 million.
Top Destination Countries for FDI
| Country | FDI inflows 2015 $ bn |
| --- | --- |
| United States | 380 |
| Hong Kong, China | 175 |
| China | 136 |
| Ireland | 101 |
| Netherlands | 73 |
| Switzerland | 69 |
| Singapore | 65 |
| Brazil | 65 |
| British Virgin Islands | 52 |
| Canada | 49 |
| India | 44 |
| France | 43 |
| United Kingdom | 40 |
| Germany | 32 |
| Belgium | 31 |
| Mexico | 30 |
| Luxembourg | 25 |
| Australia | 22 |
| Italy | 20 |
| Chile | 20 |
| Cayman Islands | 19 |
| Turkey | 17 |
| Indonesia | 16 |
| Sweden | 13 |
| Colombia | 12 |
| Viet Nam | 12 |
| Argentina | 12 |
| Israel | 12 |
| Malaysia | 11 |
| United Arab Emirates | 11 |
| Thailand | 11 |
| Russian Federation | 10 |
| Malta | 10 |
| Spain | 9 |
| Angola | 9 |
| Finland | 8 |
| Saudi Arabia | 8 |
| Poland | 7 |
| Egypt | 7 |
| Peru | 7 |
| Portugal | 6 |
| Philippines | 5 |
| Korea, Republic of | 5 |
| Panama | 5 |
| Cyprus | 5 |
| Turkmenistan | 4 |
| Azerbaijan | 4 |
| Kazakhstan | 4 |
| Macao, China | 4 |
| Austria | 4 |
Source: unctad.org