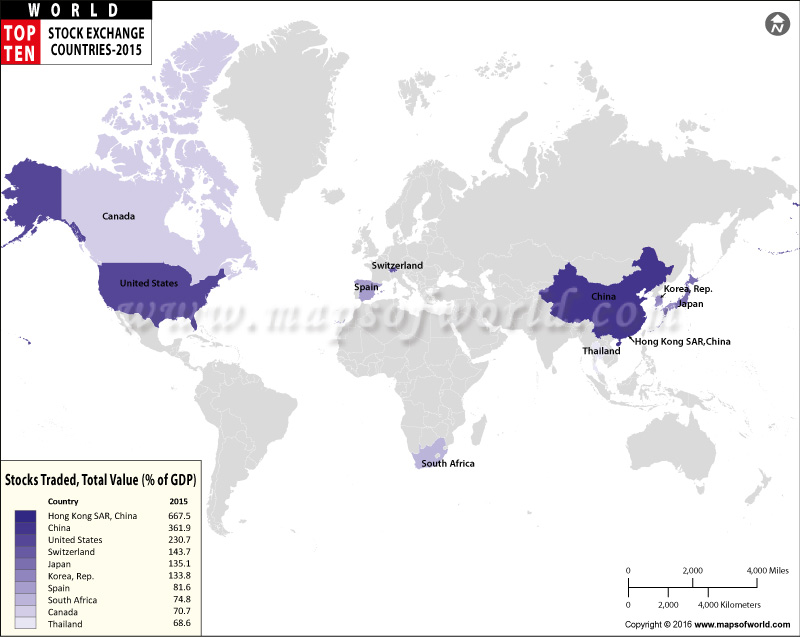 A stock exchange can be defined as a place where traders and stock brokers engage in buying and selling shares, bonds and other securities. Every country has its own stock exchange. Currently, the biggest stock exchanges are the New York Stock Exchange and NASDAQ, both of which are based in the United States.
Founded in 1801, the London Stock Exchange is one of the biggest stock exchanges in the world. From the companies listed on its exchange, the London Stock Exchange has approximately $2.2 trillion in stock market capitalization. Occupying a place in the list of the top 10 largest stock exchanges in the world, the Hong Kong Stock Exchange comprises around 1500 companies. In terms of market capitalization, Kong Kong Stock Exchange is the third largest stock exchange in Asia.
The Shanghai Stock Exchange was established in 1990 and is the second largest stock exchange in Asia. Based in Zurich, the SIX Swiss Exchange was founded in 1995. The exchange is controlled by an association of 55 banks. The fourth largest stock exchange in the world, Tokyo Stock Exchange has 2,292 listed companies. As of April 2015, the companies listed on the Tokyo Stock Exchange have a combined market capitalization of US$4.09 trillion.
Some other stock exchanges which continue to grow and deserve a special mention include India's Bombay Stock Exchange, Brazil's Sao Paulo Stock Exchange and the Australian Stock Exchange.
Stocks Traded, Total Value (% of GDP)
| Country Name | 2011 | 2012 | 2013 | 2014 | 2015 |
| --- | --- | --- | --- | --- | --- |
| Hong Kong SAR, China | 578.2 | 410.0 | 459.5 | 498.2 | 667.5 |
| China | 89.1 | 59.4 | 81.1 | 115.5 | 361.9 |
| East Asia & Pacific (excluding high income) | 75.8 | 53.3 | 72.0 | 100.9 | 308.7 |
| East Asia & Pacific (IDA & IBRD countries) | 75.8 | 53.3 | 72.0 | 100.9 | 308.7 |
| East Asia & Pacific | 90.8 | 66.2 | 91.1 | 103.0 | 242.4 |
| Late-demographic dividend | 54.1 | 40.1 | 51.6 | 72.9 | 236.6 |
| Upper middle income | 53.9 | 40.6 | 52.2 | 71.5 | 233.3 |
| United States | 264.5 | 200.2 | 199.5 | 224.7 | 230.7 |
| North America | 245.6 | 187.4 | 186.8 | 210.8 | 217.9 |
| IBRD only | 46.0 | 35.5 | 44.5 | 60.6 | 191.2 |
| Low & middle income | 45.9 | 35.6 | 44.5 | 60.5 | 188.6 |
| Middle income | 46.0 | 35.7 | 44.5 | 60.5 | 188.6 |
| IDA & IBRD total | 43.7 | 34.0 | 42.4 | 57.7 | 183.1 |
| World | 105.4 | 82.7 | 88.2 | 102.3 | 169.6 |
| Post-demographic dividend | 140.4 | 111.1 | 117.1 | 130.2 | 168.5 |
| High income | 134.3 | 106.6 | 111.7 | 125.0 | 158.1 |
| OECD members | 130.5 | 103.6 | 108.8 | 120.6 | 152.1 |
| Switzerland | 118.9 | 89.0 | 102.1 | 104.7 | 143.7 |
| Japan | 72.9 | 56.2 | 123.9 | 105.4 | 135.1 |
| Korea, Rep. | 160.9 | 129.6 | 101.9 | 91.0 | 133.8 |
| Spain | 75.8 | 64.5 | 66.8 | 71.8 | 81.6 |
| South Africa | 54.2 | 57.1 | 63.4 | 70.2 | 74.8 |
| Canada | 82.4 | 73.9 | 72.0 | 75.4 | 70.7 |
| Thailand | 58.1 | 60.1 | 83.3 | 76.8 | 68.6 |
| Singapore | 99.8 | 90.1 | 92.8 | 65.5 | 67.6 |
| Saudi Arabia | 43.5 | 69.6 | 48.7 | 75.3 | 67.6 |
| Australia | 81.2 | 58.9 | 50.4 | 48.4 | 56.0 |
| Turkey | 46.6 | 45.5 | 45.5 | 46.3 | 48.7 |
| Germany | 41.9 | 35.3 | 35.0 | 32.8 | 43.0 |
| Malaysia | 43.7 | 39.3 | 44.0 | 42.2 | 37.6 |
| India | 35.5 | 33.8 | 28.9 | 35.8 | 37.2 |
| South Asia | 29.8 | 28.0 | 23.3 | 28.9 | 32.9 |
| South Asia (IDA & IBRD) | 29.8 | 28.0 | 23.3 | 28.9 | 32.9 |
| Arab World | 19.9 | 28.7 | 21.9 | 39.7 | 30.8 |
| Early-demographic dividend | 22.5 | 24.1 | 22.2 | 26.1 | 29.2 |
| Middle East & North Africa | 17.0 | 22.6 | 19.3 | 31.7 | 29.1 |
| Norway | 37.1 | 23.5 | 18.5 | 20.4 | 24.7 |
| Brazil | 31.6 | 33.8 | 30.0 | 26.7 | 23.7 |
| Europe & Central Asia (excluding high income) | 25.9 | 19.2 | 16.4 | 15.7 | 21.1 |
| Lower middle income | 17.6 | 16.7 | 14.5 | 18.1 | 19.9 |
| Europe & Central Asia (IDA & IBRD countries) | 24.0 | 18.1 | 15.9 | 15.0 | 19.3 |
| Israel | 29.3 | 19.6 | 19.0 | 15.5 | 19.0 |
| Latin America & Caribbean (excluding high income) | 21.6 | 22.7 | 21.0 | 18.2 | 15.8 |
| United Arab Emirates | 4.3 | 4.8 | 5.5 | 35.9 | 15.6 |
| Latin America & Caribbean | 19.3 | 19.8 | 18.2 | 15.9 | 15.3 |
| Latin America & the Caribbean (IDA & IBRD countries) | 19.3 | 19.8 | 18.2 | 15.9 | 15.3 |
| Qatar | 13.5 | 10.2 | 10.2 | 26.0 | 14.5 |
| Philippines | 12.2 | 14.3 | 16.4 | 14.8 | 13.2 |
| Poland | 13.8 | 12.0 | 13.9 | 10.6 | 11.1 |
| Vietnam | 5.5 | | 6.1 | 11.7 | 9.6 |
Stock Exchange
The stock exchanges in various countries over the world have well performed due to the financial sector reforms and integration. Flow of funds internationally has raised the expertise of stock exchanges in the respective countries.
Major stock exchanges in various countries over the world are as follows:
Stock Exchanges In USA:
Some of the Major Stock Exchanges in United States are as follows:
The Arizona Stock Exchange
Boston Stock Exchange
Cantor Exchange
Chicago Mercantile Exchange
Chicago Board of Trade
Chicago Board Options Exchange
Cincinnati Stock Exchange
Chicago Stock Exchange
Coffee, Sugar and Cocoa Exchange
Commodity Floor Brokers & Traders Association
Commodity Futures Trading Commission
Federal Reserve Board
Futures Industry Institute
Kansas City Board of Trade
Minneapolis Grain Exchange
Nasdaq Stock Market
National Futures Association
New York Mercantile Exchange
New York Stock Exchange
North American Securities Administrators Association
Philadelphia Stock Exchange
San Diego Stock Exchange
Stock Exchanges In United Kingdom
Some of the Major Stock Exchanges in United Kingdom are as follows:
Financial Services Authority (FSA)
Futures and Options Association
Investment Management Regulatory Organization
London Stock Exchange
FTSE International (London Stock Exchange)
London International Financial Futures and Options Exchange (LIFFE)
OMLX, The London Securities & Derivatives Exchange
Securities and Futures Authority (SFA)
Trade Point Stock Exchange
Stock Exchanges In Japan
Some of the Major Stock Exchanges in Japan are as follows:
Chubu Commodity Exchange
Kansai Commodities Exchange
Nagoya Stock Exchange
Niigata Securities Exchange
Osaka Securities Exchange
Securities & Exchange Surveillance Commission
Securities Dealers Association of Japan
Tokyo Commodity Exchange
Tokyo Grain Exchange
Tokyo International Financial Futures Exchange
Tokyo Stock Exchange
Yokohama Commodities Exchange
Stock Exchanges In China
Major stock exchanges in China are as follows:
China Securities Regulatory Commission
Hong Kong Futures Exchange, China
Shanghai Futures Exchange
Shanghai Stock Exchange
Shenzhen Stock Exchange
Stock Exchange of Hong Kong, China
Zhengzhou Commodity Exchange
More Information on Stock Exchange